Following a road accident on the Bidford Bridge in Warwickshire, significant repair work was required to the stone parapet, spandrel wall and central pier of the ancient monument. Sky Scaffolding provided the access scaffolding for Croft Building & Conservation Ltd to complete the masonry repairs.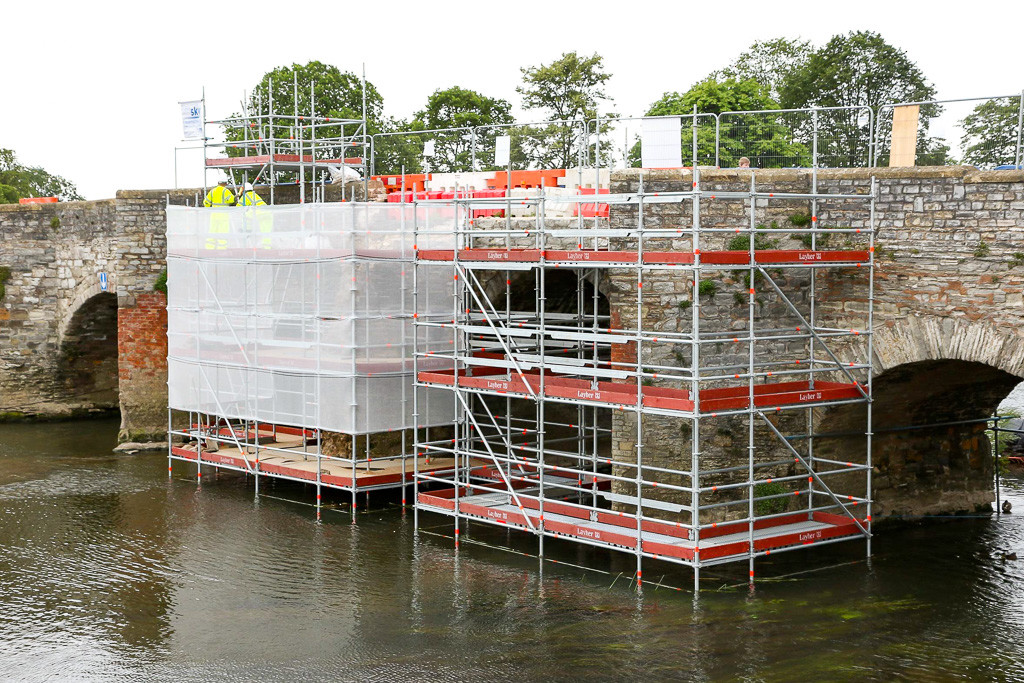 The scaffold design had to consider the ancient monument status so we were unable to tie into the the structure.  We were unable to suspend a scaffold from the carriageway because the bridge could not withstand the kentledge weight required.  The chosen solution was for the scaffold to be founded on the river bed with tubes secured around piers providing anchorage.
Our scaffolders wore life jackets while constructing this scaffold and we were supported by the River Avon Trust who provided a safety staff throughout the works.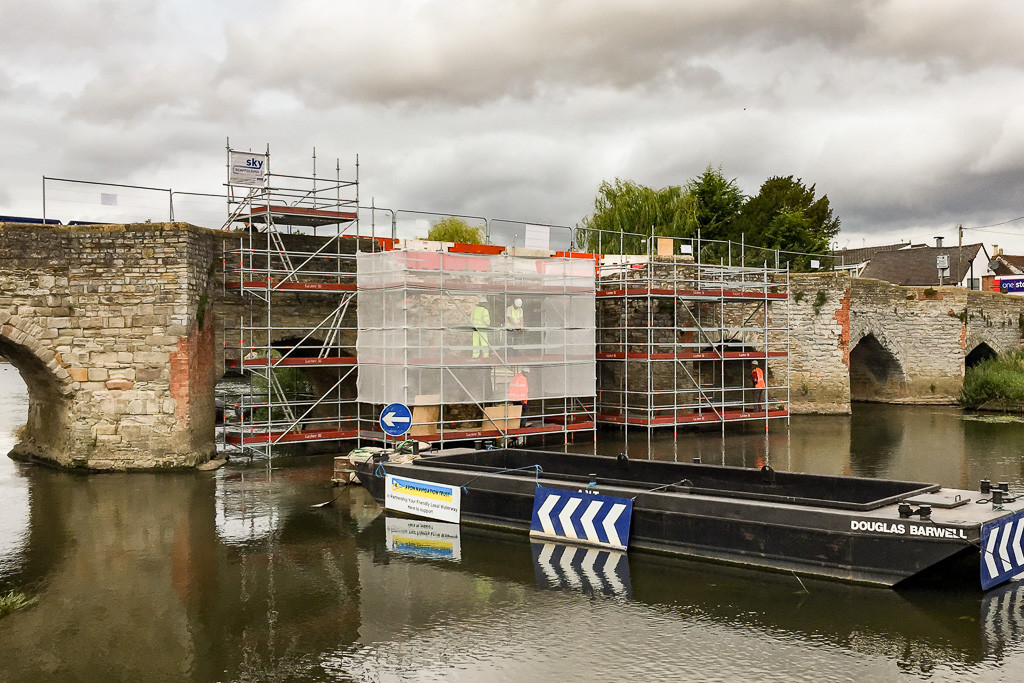 Debris netting was provided to contain any dust that was produced during the works.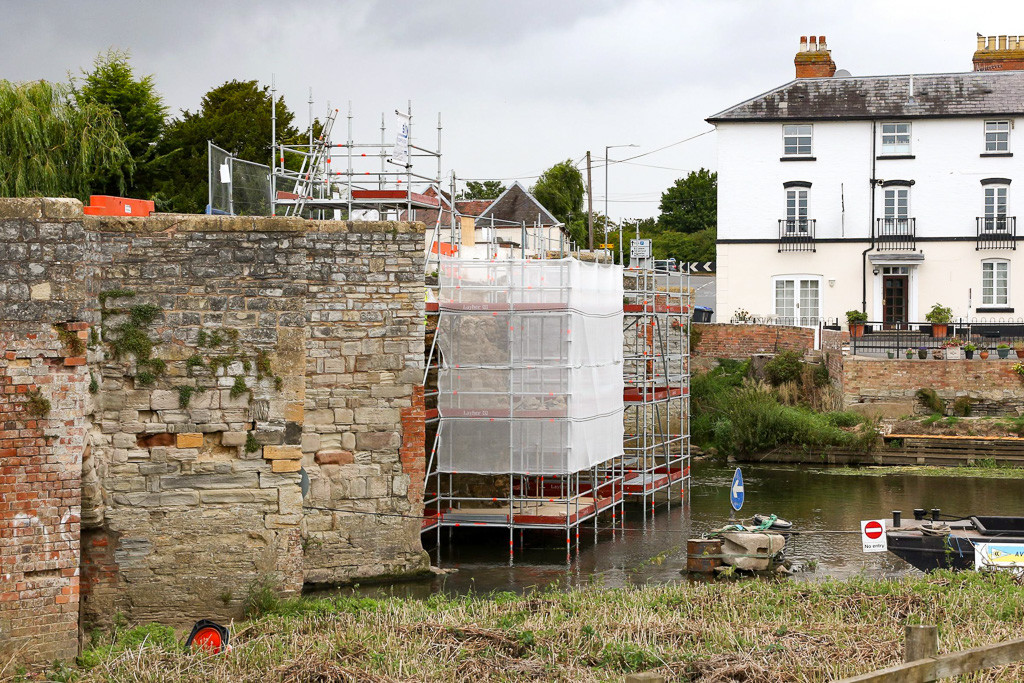 The scaffold took 5 days to erect and was on hire for 20 weeks.
Scaffold Design Complications
Unable to tie into bridge structure

Weight limit restriction on bridge

Scaffold founded in navigable river

Uneven river bed

Scaffold had to be erected from within the river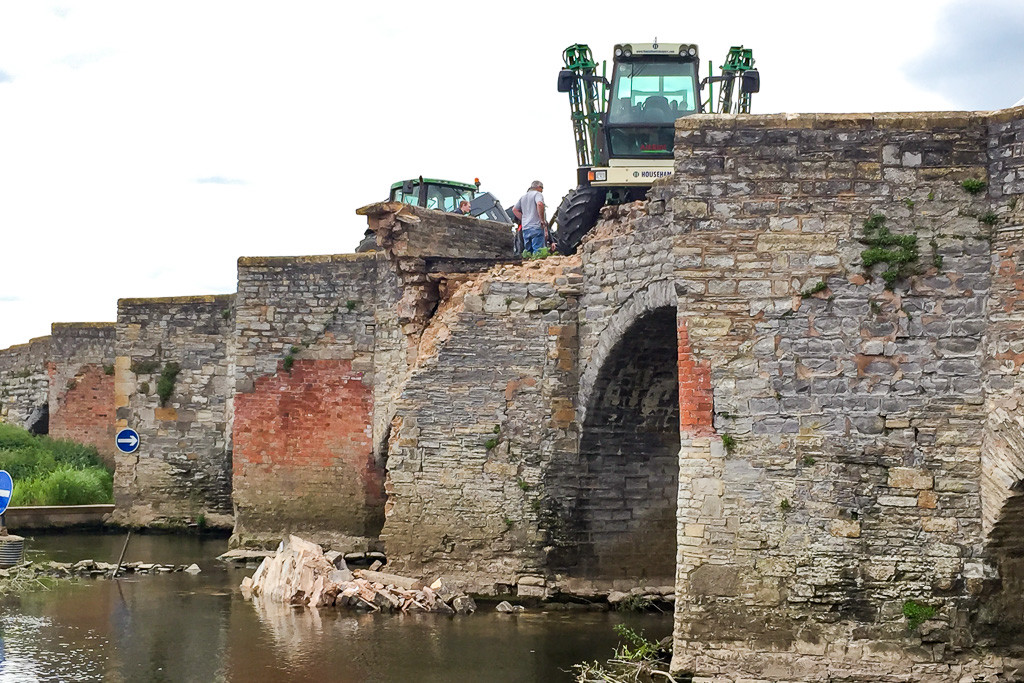 View of the damage to the Bidford Bridge pier.
Benefits of the Layher Allround Scaffolding System on this Project
The fact that Layher Allround was used in this tricky situation shows its great versatility to be used in almost all situations.  Sky Scaffolding worked with the Layher design team to produce a solution that considered the status of the bridge and provided the means of access for our client to complete their work.
Links to Other Sites Related to the Bidford Bridge Repair Project
Warwickshire County Council – Bidford Bridge
Warwickshire County Council provided an update service for members of the public during these works which caused disruption to Bidford residents for 6 months.
Wikipedia provides extra information on this ancient monument and mentions the repair work that was carried out here.
An article on the bridge collision was featured on the BBC News website and even featured on a TV news bulletin.