Sky Scaffolding Midlands Ltd have completed extensive access scaffold installation at the Burlington Hotel in Birmingham City Centre on behalf of building restoration specialists, Quadriga Contracts Ltd.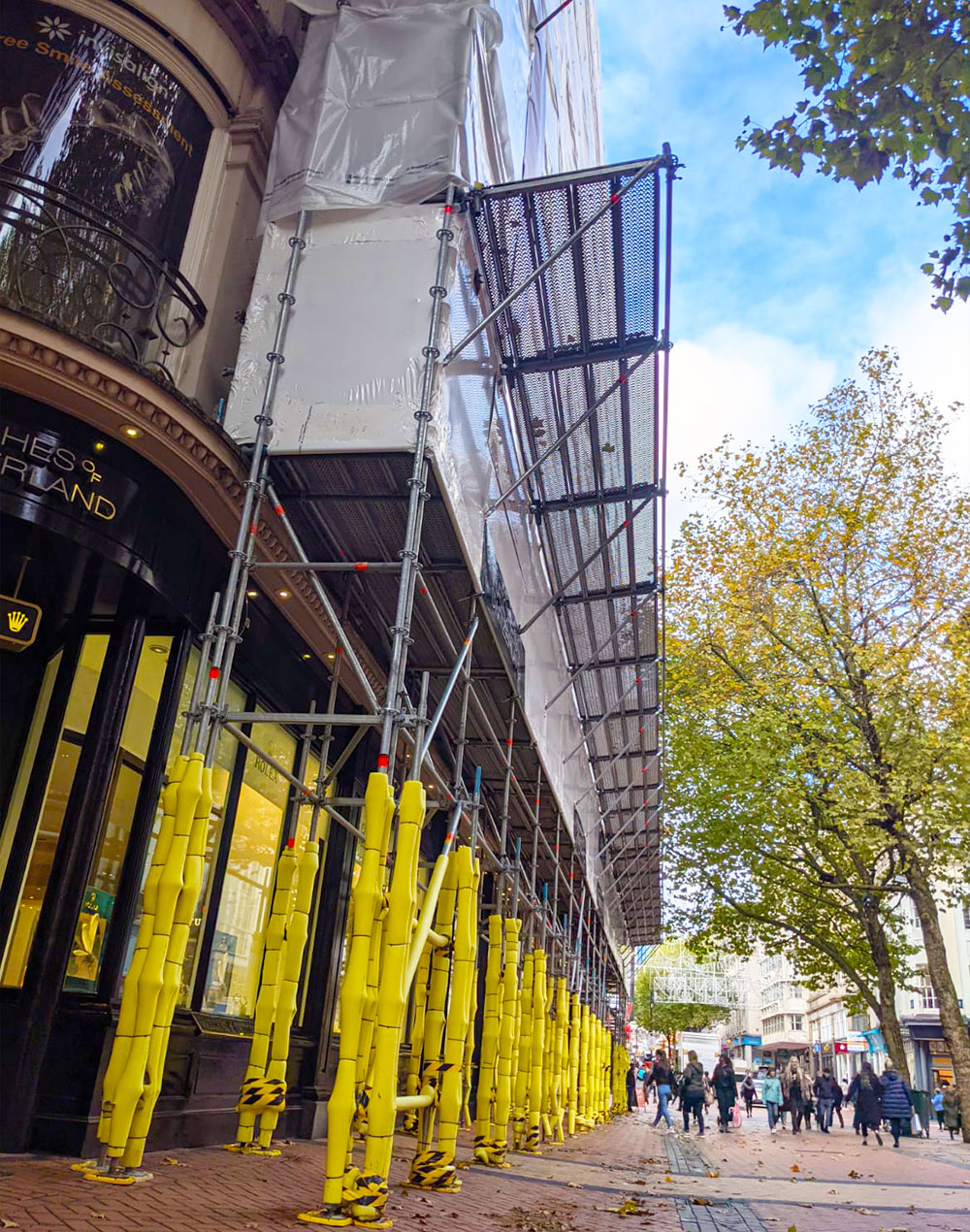 Project Overview
The Burlington Hotel, formally the Midland Hotel offers luxurious accommodation in the heart of Birmingham City Centre with a rich prestigious history dating back to 1873.
Sky Scaffolding were approached by Quadriga Contracts Ltd to provide specialist access scaffolding to allow for extensive restoration works to be made throughout the building, including stone cleaning and decoration to exterior walls and repointing chimney stacks.
When planning the scaffold design, installation and logistics many considerations were made to ensure the project was delivered within a strict timeframe so not to disrupt the preparations to both the Birmingham Christmas German Market and 2022 Commonwealth Games.
System Scaffolding
Sky Scaffolding used the Layher system scaffold and utilised a variety of it's features to complete the scaffolding at the Burlington Hotel. The speed and versatility of a Layher system made it possible for the structure to be erect within a strict timeframe.  The use of system scaffold gave significant time benefits over traditional tube and fitting and gives an aesthetically pleasing result with no protruding tubes.
To provide safe access for repairs to be made to the building chimney stacks, Layher scaffold platforms were erected on the hotel roof. Each platform was carefully designed and built to mould itself to each stack to ensure a safe and stable working environment for repairs to be made.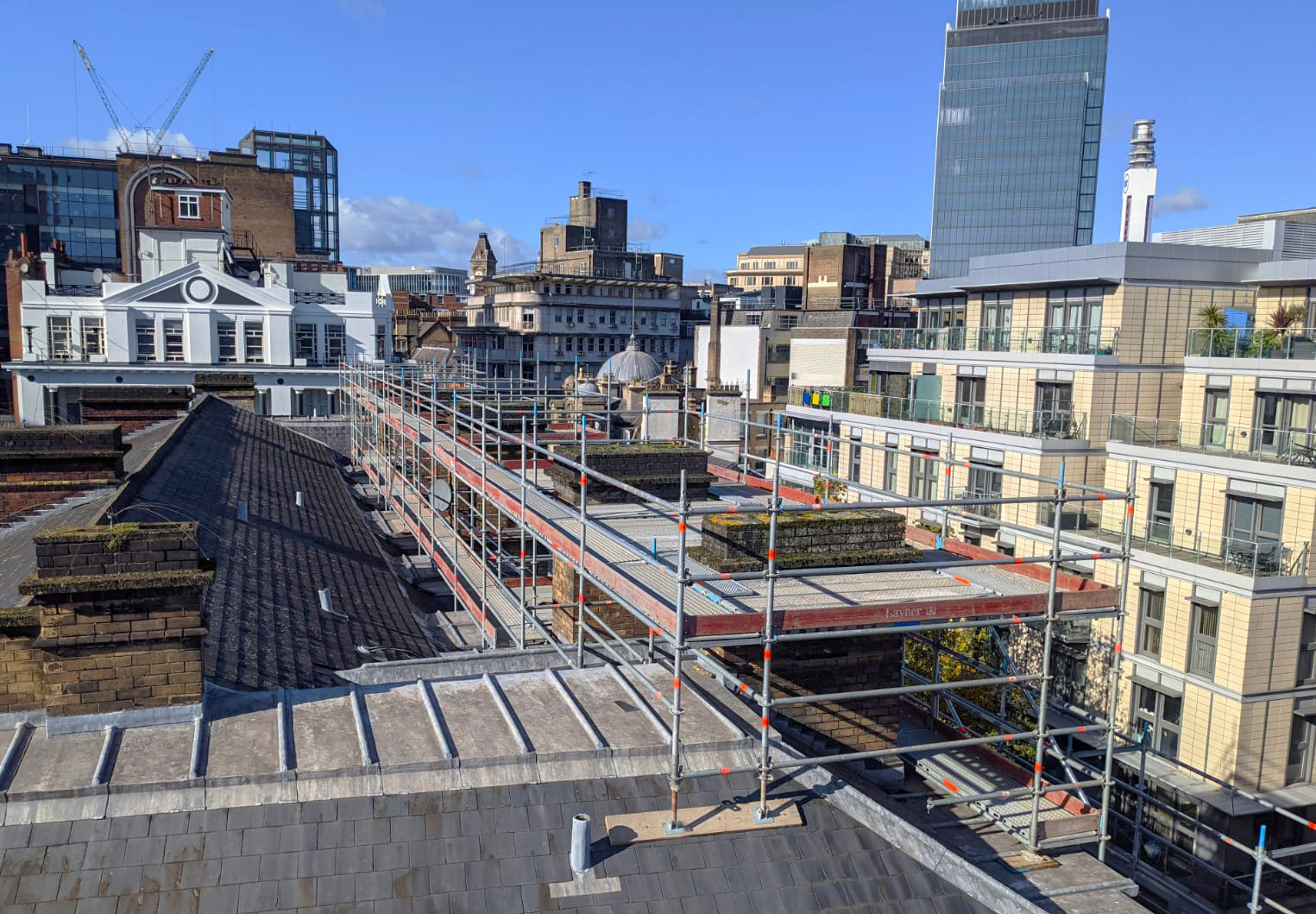 A site access staircase was installed from ground to roof level to allow the contractor and operatives access to all levels of the scaffold to perform stone cleaning, vital repairs and general maintenance. The stairs were securely protected at ground level using the Layher Protect Panel hoarding system and secure access door to prevent unauthorised access to the scaffold in this heavily trafficed pedestrian area in Birmingham City Centre.
The scaffolding was anchored to the hotel with careful considerations being made to ensure the Victorian building was protected at all times and no damage was sustained.
The kicker lift was removed at ground level to allow access for the public to the shops beneath on Birmingham New Street.  Double standards were installed to compensate for the removal of the kicker and the absense of ties on the first lift.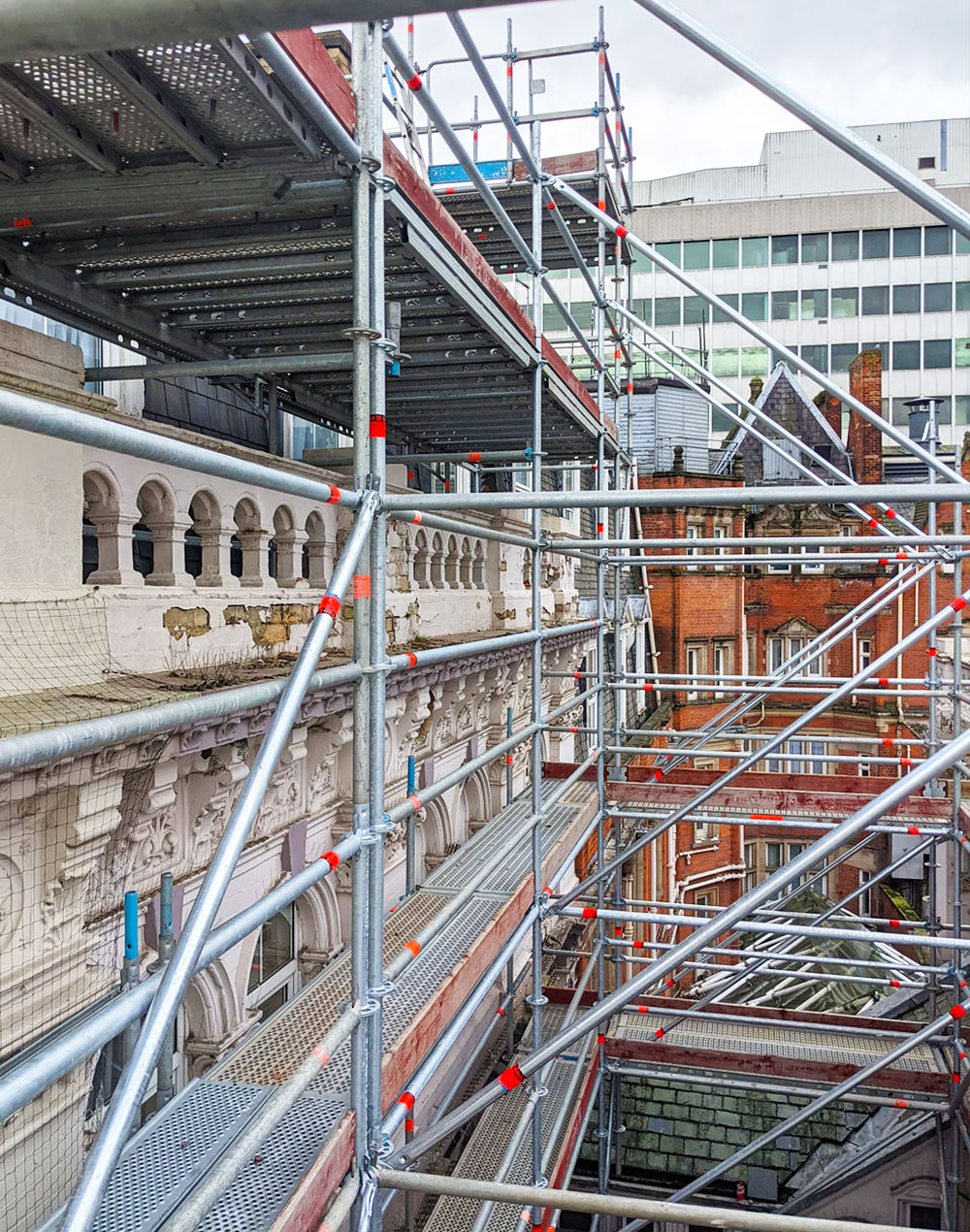 Health & Safety Considerations for Streetworks
There were many health and safety aspects taken into consideration during this particular project, including the safeguarding of the public 24 hours a day on the pedestrian walkway beneath, ensuring the safety of all operatives working at height and ensuring local residents weren't affected during unsociable hours by noise pollution.
A protection fan was installed to protect pedestrians from falling materials, and the base lift was shrink wrapped to seal the scaffold structure around the protection fan rakers and bridge beams.
Further coverage of the Burlington Hotel project can be viewed here in Scaffmag.
Scaffold Enquiries for Birmingham
Sky Scaffolding have a wealth of experience in providing a variety of access solutions for all types of projects. If you think that this or a similar solution may be suitable for a project you are working on and would like to discuss your requirements further, please call our Estimating Department on 01926 400 900.