Sky Scaffolding were approached by SIBCAS to provide a ground levelling structure to support a substantial arrangement of their site accommodation units.  The modular buildings were being used as temporary accommodation for The Wasps Rugby Team (showers, gymnasium, meeting areas, etc.) while their usual accommodation was being refurbished.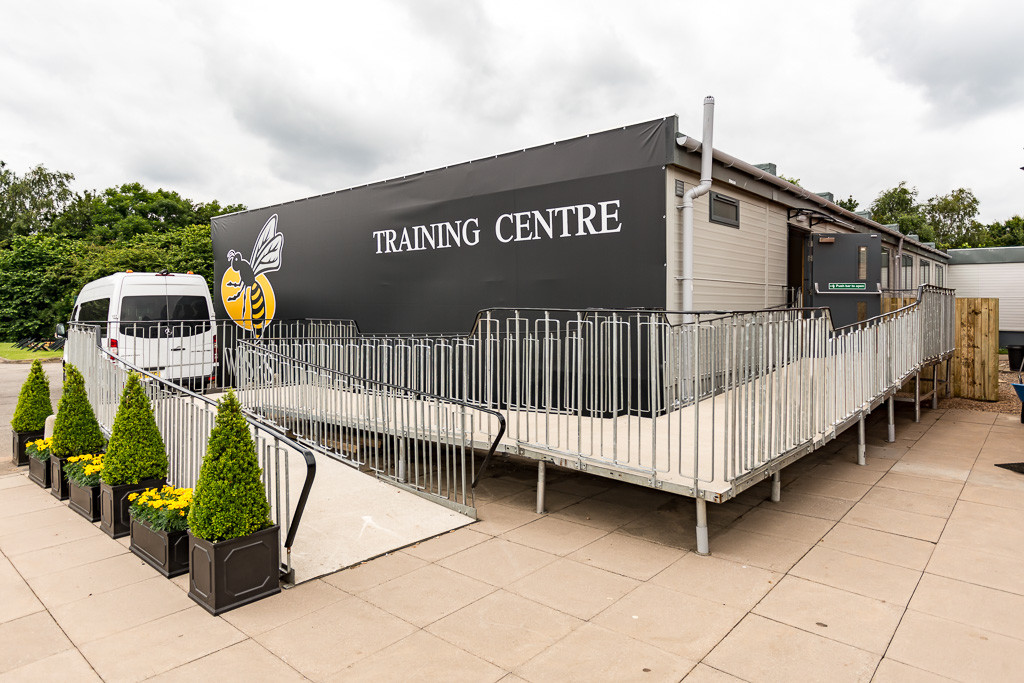 In the final state the support scaffolding is unobtrusively hidden beneath the temporary accommodation units.
The site where the units were to be located was a grass area next to an existing clubhouse where the ground level varied by up to 2m, and so a scaffolding structure was required to provide a level surface from the existing clubhouse entrance and to spread the load of the accommodation to levels that could be taken by the existing ground.
Sky Scaffolding used the Layher Allround Scaffolding system to form a birdcage scaffold to meet the SIBCAS Engineer's requirements.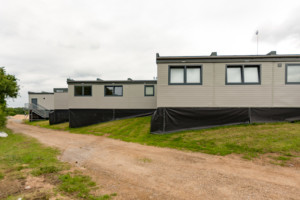 There was a significant level difference over the site that had to be taken up by the support scaffold.
You can see here the support structure that was completed using the Layher Allround Scaffolding system.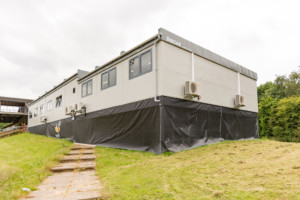 You can make out the support structure beneath the temporary site accommodation in the above photo.
This project shows how versatile the Layher system is: with a traditional tube and fitting scaffold we would have had to cut many standards on site to meet the varying ground profile, however we were able to utilise the Layher screw jacks and half standard heights, eliminating on-site cutting and reducing costs and erection times for our client.
Layher Staircase System
The image to the right shows the Layher scaffold staircase that was erected for a fire exit.  These staircases are suitable for general escape means, public access, and event staircases.
We can supply various types of stair scaffolding to provide you with the safest means of personnel access to the upper levels of your site.