Industrial Scaffolding | Industrial Screening
Sky Scaffolding has been providing industrial scaffolding solutions for facilities, plants, and factories for decades. We regularly work in steel foundries, food and drink factories, car manufacturing plants, automation and manufacturing factories, for planned and reactive maintenance and full refurbishment operations.  
We understand that production is king, and have the experience necessary to ensure that the impact on your business operations and output is kept to a minimum throughout the works. As well as providing access to those hard to reach areas, we provide dust containment, industrial screening and shrink wrapping to ensure the factory environment is kept clean and sterile.
Whether you are looking for a dedicated service scaffolding contract, or scaffolding support as the need arises, please contact a member of our team to see how we can help.
Food and Drink Industry
We have vast experience in the industrial scaffolding business. We provide scaffolding hire for large scale factory maintenance and upgrade programmes.
We regularly work in critical environments, providing food and drink industry scaffolding, prison scaffolding, and airport scaffolding.
Industrial Screening
As comprehensive scaffolding contractors, from our Warwick depot we provide a full range of commercial scaffolding hire services.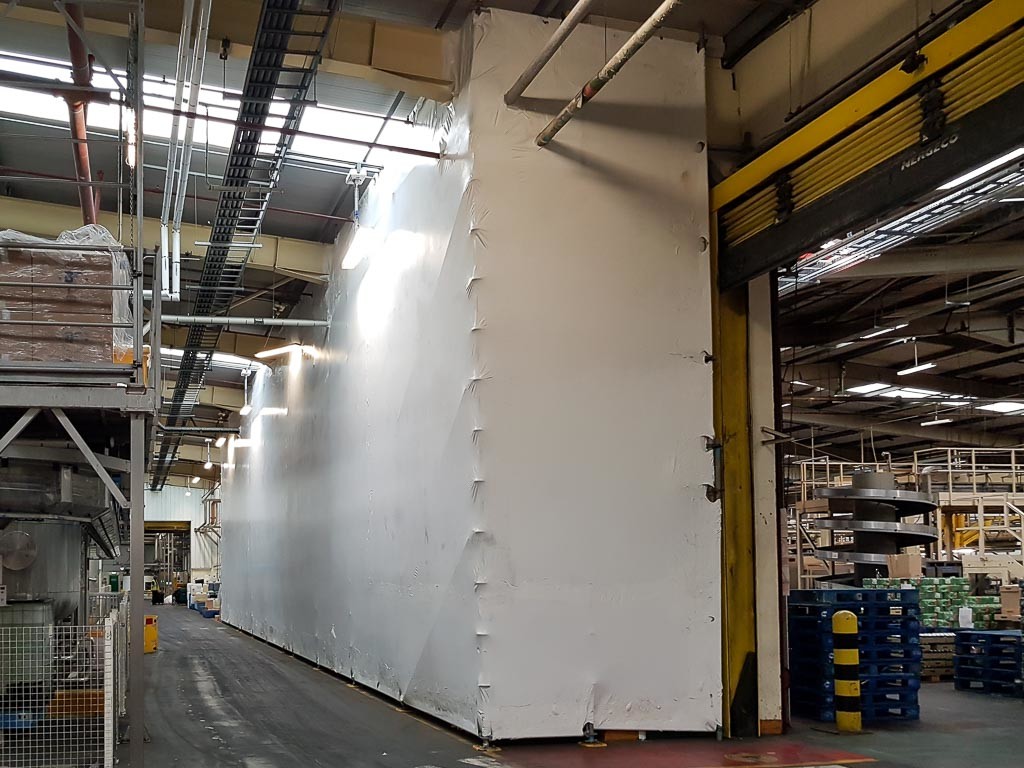 We specialise in scaffold hire for shop fitting, refurbishment, and retail maintenance scaffolding.
Contract Scaffolding
We provide contract scaffolding and scaffolding for maintenance contracts in factories.
We can provide a dedicated site team to ensure continuity throughout your maintenance contract.
Industrial Scaffolding Experience
Food and drink industry scaffolding

Airport scaffolding and aircraft scaffolding

Car manufacturing scaffolding

Steel foundry scaffolding
Industrial Scaffolding Solutions
Scaffolding in confined spaces

Scaffolding in substances hazardous to health

Scaffolding in areas of high security
Maintenance Contract Scaffolding
We provide contract scaffolding in critical environments.  We have to overcome a large number of obstructions, and need to work in some very congested and difficult areas.  The experience of our scaffolders, combined with the expertise of our technical department ensures that no location on your work site is unreachable.
We can provide 3D models of or proposed scaffolds and superimpose them on plans of your site so you can see exactly how our scaffolding will look and plan your operations around them.  Clients have found this very useful for coordinating with other contractors on site and providing confidence to facility owners.
Industrial Screening and Dust Containment
We provide industrial screens and enclosures to completely seal your work area, ensuring that the operational area remains dust free. We only use metal boards, eliminating risk of splinters and reducing dust.
Factory Refurbishment
We have provided scaffolding for high-profile major factory upgrades, whilst the existing factory remains operational. We provide a dedicated site team and project management support to ensure that your scaffolding needs can be answered promptly.