Sky Scaffolding Midlands Ltd: Industrial Scaffolding

Sky Scaffolding has been providing industrial scaffolding solutions for facilities, plants, and factories for decades. We regularly work in steel foundries, food and drink factories, car manufacturing plants, automation and manufacturing factories, for planned and reactive maintenance and full refurbishment operations.
We understand that production is king, and have the experience necessary to ensure that the impact on your business operations and output is kept to a minimum throughout the works. As well as providing access to those hard to reach areas, we provide dust containment, industrial screening and shrink wrapping to ensure the factory environment is kept clean and sterile.
We have vast experience working in sterile environments such as water processing plants and food and drink factories.
We understand the specific precautions that need to be taken in these areas with additional PPE and the avoidance of certain materials such as timber.

We have worked in airports and the aerospace engineering industry for many years, working 'airside' at Birmingham International Airport.
We provide bespoke mobile scaffolds to enable to enable the scaffolds to be moved by engineers when aircraft are being moved.
We have installed scaffolding for maintenance and repair at various energy plants and associated facilities for 'Big 6' energy suppliers in the UK.
The standard for health and safety at these sites is set far above the construction industry norm, and we have been able to meet the most stringent of requirements from our clients on these sites.
Industrial Scaffolding Specialists
Sky Scaffolding have been members of the NASC for over 15 years. We supply industrial screening hire to industrial sectors, and supply dust containment structures to factories. We can provide long-term contract scaffolding for maintenance
£10m Employer's Liability | £10m Public Liability | £1m Proffessional Indemnity
Looking for scaffolders in the Midlands you can trust?
To see how we can help with your industrial scaffolding project, call Sky Scaffolding on 01926 400 900 and discuss your requirements with us.
We can install dust containment scaffolds and industrial screening to protect parts of your factory or workplace while other construction works are ongoing.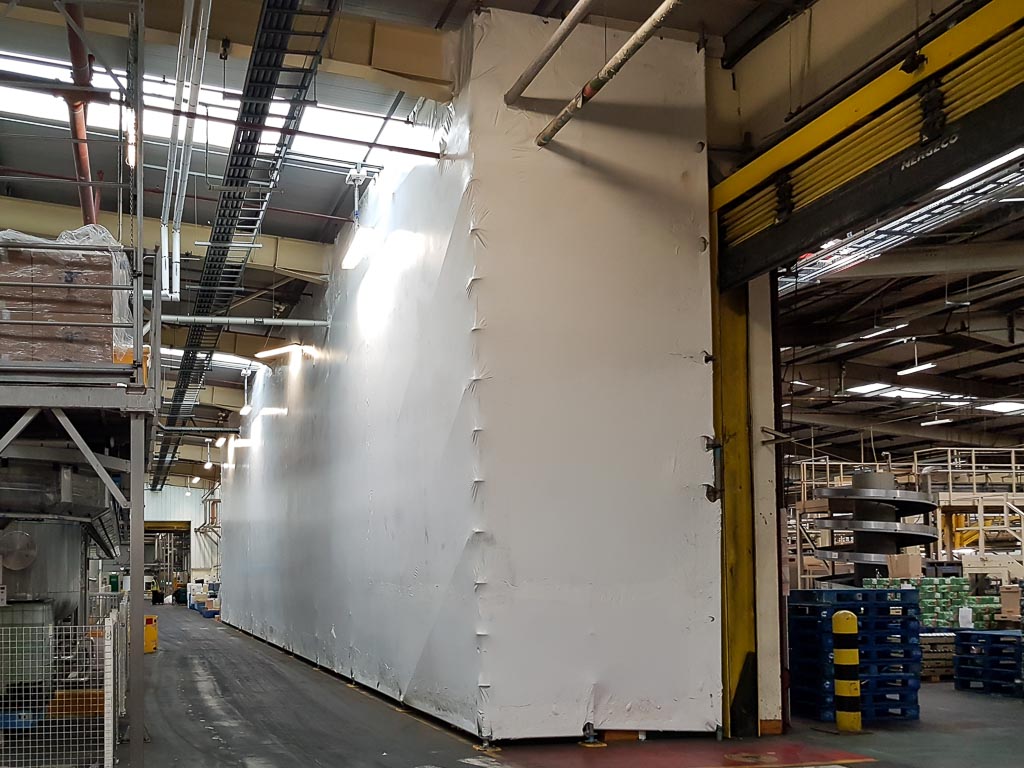 The screen shown here is a shrinkwrapped screen in a food and drink factory to protect the factory operations from dust during a large refurbishment.

Our in-house shrink wrapping team can provide an excellent alternative to standard monarflex sheeting.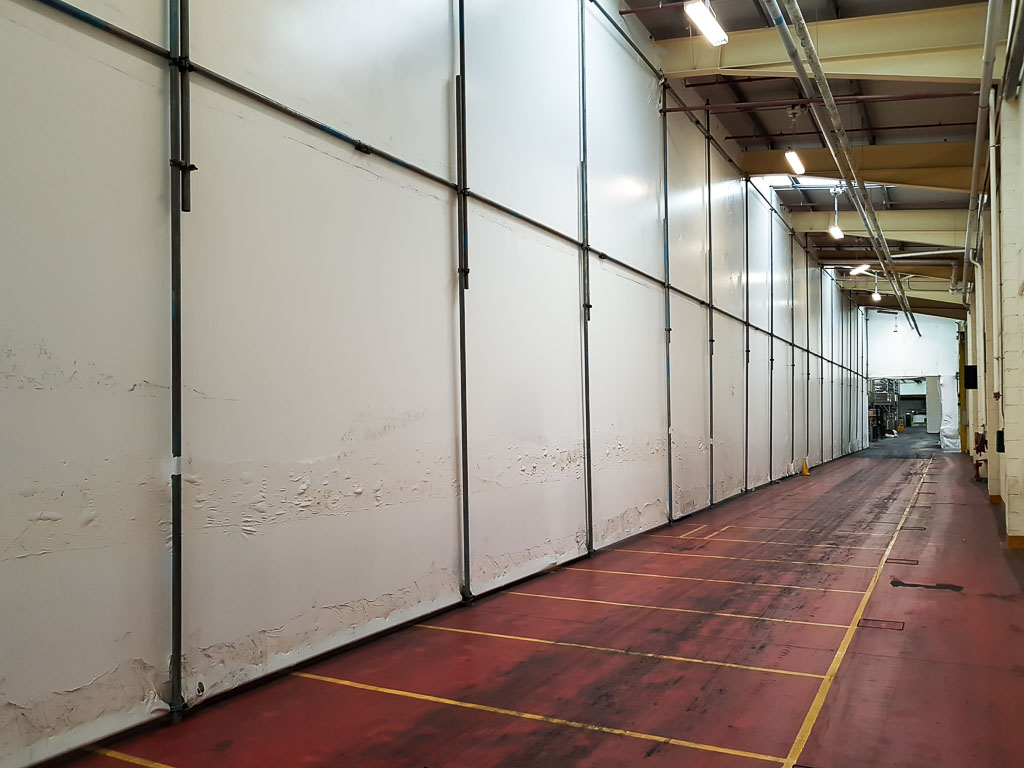 Shrink wrapping provides a premium 'drum-tight' and completely sealed finish which has many applications from dust containment to weather protection.
We provide contract scaffolding and framework services for maintenance in factories, plants, and government facilities.
We can provide a dedicated site team to ensure continuity throughout your maintenance contract.