Sky Scaffolding Midlands Ltd:
System Scaffolding | HAKI Stairs
In its beginnings Sky Scaffolding used traditional tube and fitting scaffolding almost entirely, but after roughly 10 years of trading we started to see the attraction of system scaffolding. We tried various system scaffolding types (Kwikform / Kwikstage scaffolding; Cuplok / Cuplock scaffolding; HAKI; to name a few) but we found that none delivered the entire package.
We were approached by Layher who wanted to demonstrate the significant improvements their Layher Allround Scaffolding system had over any other on the market, and were immediately impressed by the speed and versatility offered by the Layher system.
Sky now work hand-in-hand with Layher to develop scaffold designs to best suit our customer requirements, and have access to material stocks to suit projects of great scale.
We provide system scaffolding hire and system scaffold hire.  We use system scaffolding because it is very quick to erect, and provides a superior working platform compared to traditional scaffolding.  It also provides a better aesthetic finish.
Rather than HAKI stairs, we supply Layher stairs.  Unlike HAKI stairs, Layher stairs integrate seamlessly with the main scaffold structure.  This makes them quicker to erect than HAKI stairs, and provide a safer staircase system.
Layher Scaffolding System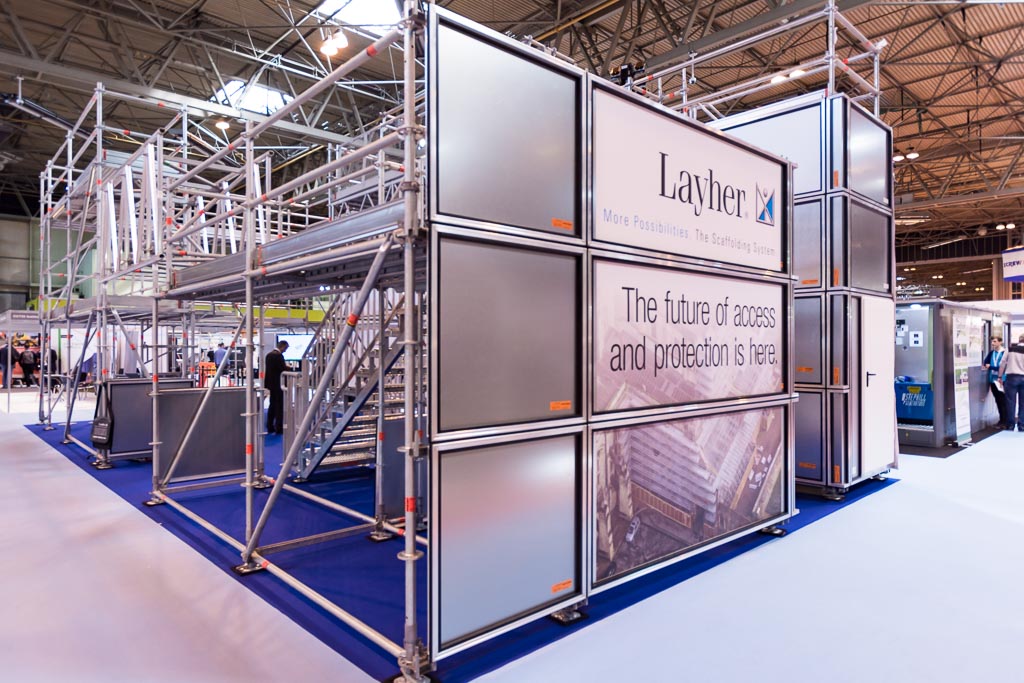 We use the Layher Allround scaffolding system exclusively.  The Layher system scaffold is the best system scaffold and most highly regarded throughout the world.  This is because of the huge component library and support from Layher.
What is System Scaffolding?
A system scaffolding structure is essentially a frame structure that has evolved from the general principles of tube and fitting scaffolding, but utilises a specialised modular connection. The major difference between tube and fitting and system scaffolds is the connection between the uprights (or "standards"), the horizontal members (or "transoms and ledgers"), and the diagonal members (or "braces").
The connection between the various members normally consists a specially designed mouth piece at the ends of the horizontal and diagonal tube members and a rosette device at regular spacing up the standard, or other similar modular connection.
The main advantage of system scaffolds over traditional tube and fitting scaffolds is that the erection speed is greatly increased; it's not unusual for a system scaffold structure to be put up in a quarter of the time of a similar size traditional tube and fitting scaffold structure.
System Scaffolding Advantages
Scaffolding erection times cut by up to a factor of 4

No protruding tubes for a better and safer finish

Significantly lighter structure for reduced leg loads

Considerably improved load bearing capability