Sky Scaffolding Midlands Ltd: 
Scaffolding Hire in Solihull
Based in Warwickshire and with over 30 years of trading experience, Sky Scaffolding is one of the leading scaffolding hire companies in the West Midlands town of Solihull and the areas surrounding it. They specialise in industrial and commercial scaffolding, regularly working in Touchwood Shopping Centre and car manufacturing plants in the area. As a member of the NASC, Sky offers the complete scaffolding hire service.
Sky Scaffolding Services
We specialise in industrial and commercial scaffolding. We supply the full range of scaffolding equipment and can provide bespoke access scaffolding and support work.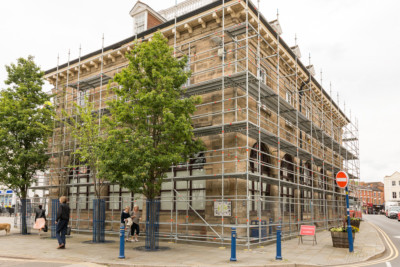 We offer a comprehensive scaffolding rental service, and have the expertise to ensure you are provided with the safest and most appropriate solution for your construction work.
Sky have long-standing relationships with commercial clients working all over the UK on shop fitting, refurbishment, and retail maintenance projects.
We have great experience in scaffolding for industrial clients, and have experience working in difficult conditions including sterile factories and areas of significant danger.
We supply scaffolding in and around the Solihull area
Looking for scaffolders in the Midlands you can trust?
It would be great to hear from you, call Sky Scaffolding on 01926 400 900 and discuss your access requirements with us.