Sky Scaffolding Midlands Ltd: Heritage and Conservation

Sky Scaffolding are the trusted suppliers of scaffolding for work on heritage and conservation sites throughout the UK. Working on assets owned or managed by English Heritage and The National Trust, we have built up a wealth of experience in providing scaffolding structures for maintenance, refurbishment and reconstruction that are sympathetic to the buildings they adorn.
Contact Sky Scaffolding for the best access solution for your works on grade listed properties, scheduled monuments and important buildings.
The major refurbishment of this Grade I listed building in High Green was made into a visitor attraction and our scaffolding provided safe pedestrian access to see the work up close.

Following a collision on the ancient monument Bidford Bridge, we provided scaffolding out of the water to allow masonry repairs to the pier and parapet. There was a weight restriction on the bridge and we were unable to use anchors to secure the scaffold.
We provided the scaffolding for the restoration of St. Michael's Cathedral in Coventry. This scaffolding was required for masonry repairs and was constructed using the Layher system scaffold, and the design had to avoid tying to the historic stonework.
Protecting History, the Environment, and the Public
Working on heritage sites often involves working in close proximity to the public and paying visitors. This requires special attention and measures to protect the public while essential works are being carried out, prevent unauthorised access to the scaffolding structure, and providing a structure that is as aesthetically pleasing as possible.
We have had great success with our Layher Protect Panel system that can be customised with printed vinyl to match the underlying building and surroundings.
For all your heritage scaffolding hire, sale and installation needs
Please contact us on 01926 400 900 to discuss your requirements with us.
We provided bespoke access scaffolding for Guy's Tower at Warwick Castle to allow for vital repairs.
This scaffold required a full-height staircase and integrated hoarding system to provide security and prevent pedestrians from accessing the scaffold.
We provided the scaffolding for masonry repairs to Market Hall Museum in Warwick.
We used the Layher Protect System to provide an integrated hoarding system, this keeps a neat appearance, takes up minimum space, and removes the need for timber hoarding to be erected.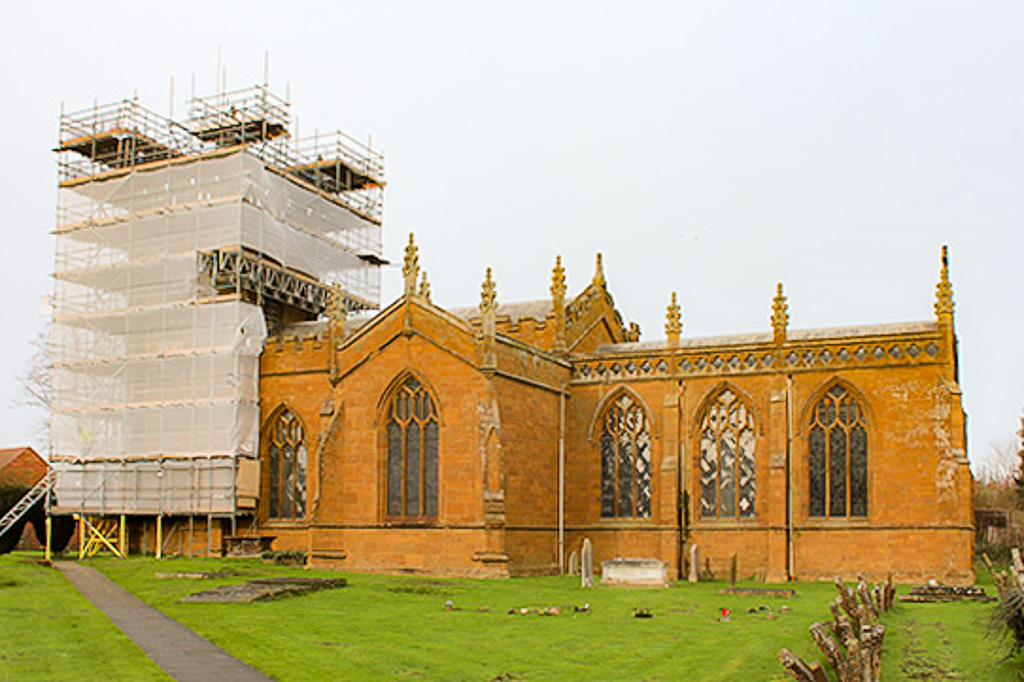 We provided the scaffolding for the restoration of Kineton Church tower. This scaffold was constructed using tube & coupler scaffolding with full debris netting.
We have lots of experience on heritage works and regularly work on English Heritage and National Trust sites.