Scaffolding Leamington Spa
Sky Scaffolding has become one of the leading scaffolding contractors in the Warwickshire town of Leamington Spa and its neighbouring areas.
As members of the NASC and all of our scaffolders undergoing CISRS training, we provide clients with only the highest quality work. Our workforce are regularly updated on any changes to legislation, which ensures all work conducted by us is in accordance with TG20:13 and SG4:15.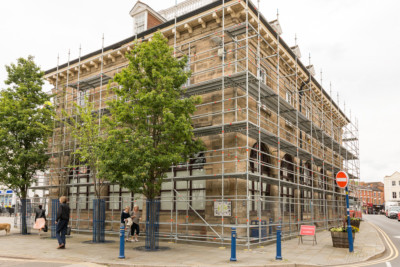 We offer a comprehensive scaffolding rental service, and have the expertise to ensure you are provided with the safest and most appropriate solution for your construction work.
Sky have long-standing relationships with commercial clients working all over the UK on shop fitting, refurbishment, and retail maintenance projects.
We have great experience in scaffolding for industrial clients, and have experience working in difficult conditions including sterile factories and areas of significant danger.
Scaffolding Hire in Leamington Spa
Established in 1988, Sky Scaffolding has grown as a company, undertaking a range of different projects. We have earned a reputation as being of the best companies in the area for scaffolding services and become experts in all types of scaffolding, support work and custom-design scaffolds.
Focusing on industrial and commercial sectors, we have provided emergency support for Warwick Hospital, and offer a 24 hour emergency call out service to ensure our clients are always covered.
Looking for a reputable scaffolding contractor in Leamington Spa?
Give Sky Scaffolding a call on 01926 400 900 and we will find the most suitable access solution for your work – we look forward to hearing from you.
Pavement Work in City Centres
This project in Leicester City Centre was for the refurbishment of a café and flats above. We provided full protection to the public, including foams on all tubes, debris netting to the lifts above, and a pavement protection lift.
We regularly provide scaffolding on the public highway requiring a pavement permit to be applied for, we offer full assistance in dealing with the local councils and advising on the restrictions of the permit.
Croome Court Sky Café
This scaffold on Croome Court was for lead work, window replacement, roof work and stonework. The major refurbishment of this Grade I listed building in High Green was made into a visitor attraction and our scaffolding provided safe pedestrian access to see the work up close.
This scaffold incorporated a full height Layher staircase suitable for general public use with child-safe guardrails throughout.