Sky Scaffolding Midlands Ltd: 
Warwickshire & Coventry Scaffolding Hire
Sky Scaffolding are Coventry & Warwickshire's leading scaffolding company. Established in 1988, Sky have become one of the region's most trusted and reputable scaffold contractors. Operating from Warwick, we provide scaffolding for hire and erect to Coventry and surrounding areas, including Birmingham. With a strong focus on safety and quality, Sky are members of the NASC and use only fully trained direct employees.
Sky Scaffolding Services
We specialise in industrial and commercial scaffolding. We supply the full range of scaffolding equipment and can provide bespoke access scaffolding and support work.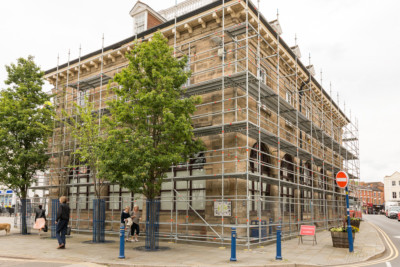 We offer a comprehensive scaffolding rental service, and have the expertise to ensure you are provided with the safest and most appropriate solution for your construction work.
Sky have long-standing relationships with commercial clients working all over the UK on shop fitting, refurbishment, and retail maintenance projects.
We have great experience in scaffolding for industrial clients, and have experience working in difficult conditions including sterile factories and areas of significant danger.
We serve all areas of Coventry, Warwickshire and beyond – call for a quote.
For Coventry & Warwickshire's most reputable scaffolders
Call our Warwick office on 01926 400 900, it would be great to discuss your access requirements with you.
Sky Scaffolding Projects
In order to demonstrate the diversity of our scaffolding expertise, we showcase a selection of our past scaffolding projects below. Further case studies can be found on the Scaffolding Case Studies page.
Wiles Road Bridge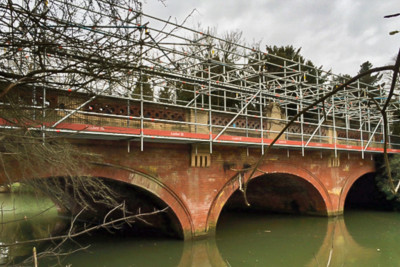 Sky erected the scaffolding on Willes Road Bridge in Leamington Spa.  This scaffolding was suspended over the water below to enable repairs to be carried out to the bridge parapet.
Sky have lots of experience working in, over or close to water. Our scaffolders hold Water Hygiene Cards and are trained in working on waterways and the dangers that this poses.
Market Hall Museum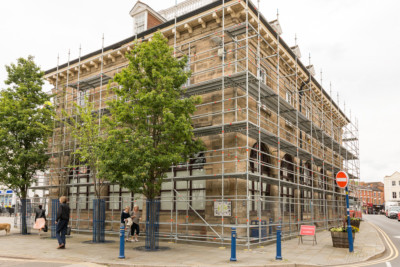 We provided the scaffolding for masonry repairs to Market Hall Museum in Warwick.  We used the Layher Protect System to provide an integrated hoarding system, this keeps a neat appearance, takes up minimum space, and removes the need for timber hoarding to be erected.
Sky have a long history providing scaffolding for both reactive and planned council work for a number of councils across the Midlands.
St. Michael's Cathedral
We provided the scaffolding for the restoration of St. Michael's Cathedral in Coventry.  This scaffolding was required for masonry repairs and was constructed using the Layher system scaffold, and the design had to avoid tying to the historic stonework.
We have a wealth of experience on heritage works up and down the UK, and regularly work on English Heritage and National Trust sites.